"
Let the rejoicing begin. Fernando has returned!
"
Fernando Hernandez Guerero Fernandez Guerrero[1], briefly known as Zarro (mistakenly called Zorro by Gia),[2] is a character on Fuller House. He is the husband of Kimmy Gibbler, and the father of Ramona Gibbler.
He is portrayed by Juan Pablo Di Pace.
Background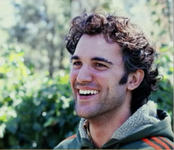 Fernando married Kimmy sometime after the Full House series finale episode, Michelle Rides Again (Part 2), however they have since separated. It is unknown how long the two were married before their daughter, Ramona was born, or how long they have been separated, but it is revealed in "Our Very First Show, Again" that Fernando cheated on Kimmy multiple times with multiple women.
Fernando is still in love with Kimmy, and is currently engaged to marry her for a second time.
Relationships
Family
Not much is said about his relationship with Kimmy Gibbler but what we do know is, he apparently cheated on Kimmy with "some of the most beautiful women in the world" as stated in the show.
Fernando and Ramona seem to have a loving relationship. In Season 3, Fernando tried to convince her to move into the new Gibbler Home, he created.
Trivia
Fernando apparently cheated on Kimmy with "some of the most beautiful women in the world."
D.J. very obviously hates Fernando for what he did to her best friend, Kimmy.
Prior to his current occupation as a race car driver, Fernando was a women's hairdresser - which is how he and Kimmy first met.
In the beginning of Season 2 he moved into the Fuller-Tanner-Gibbler house
His daughter Ramona was born a week before his wedding
In the beginning of Season 3, he moved into the Gibbler home, he built and his new roommate is Jimmy Gibbler.
Max is not fond of him.
Awards
This Character won the award for Favorite Guest Character at the Fuller House Wiki Awards 2017!
See here for more details.
Cite error: <ref> tags exist, but no <references/> tag was found