Cleaning up

This article needs to be cleaned up and re-organized to reach a higher standard of quality.
"
Kimberlina, I thought true love was only true in love songs and Fifty Shades of Grey. The book, not the movie. But, when I'm with you, I know that true love can be truly true.
"

—Fernando's vows, when marrying Kimmy.
"
Fernando, for the past 15 years, you've made everyday an adventure. I don't always understand what you're saying, but I always know that you love me. And I love you, too.
"

—Kimmy's vows, when marrying Fernando.
Kimnando is a pairing between Kimmy Gibbler and Fernando Guerrero on Fuller House.
Kimnando is one of the most supported ships on Fuller House, behind a few others such as Dteve and Datt. Kimmy made her debt on Full House, however Fernando made his first appearance in the first episode of Fuller House.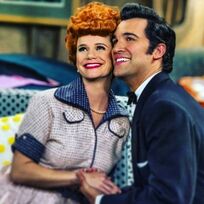 That being said, the ship started in "Our Very First Show, Again" (Fernando's debut), where it is revealed that Fernando recently cheated on Kimmy and they are soon getting a divorce.
Ever since then however, their relationship continued to grow. With Fernando continuously trying to win Kimmy's affection back so that they could cancel the divorce and live happily with their daughter, Ramona. However, it took a while for Kimmy to actually start feeling the same way. They have had a few small fights, but they both shared a few kisses and have had the same feelings for each other. In the episode, "Save the Dates", Fernando asks Kimmy to sign a divorce paper, so she does, he then proposes to Kimmy once again and she says yes.
WARNING: All severe ship arguments will be reported to the administrators and be punished!
Additional Names
Community content is available under
CC-BY-SA
unless otherwise noted.