New Kids in the House, is the tenth episode of season 2, and the twenty-third episode of Fuller House overall. The title is a reference to the band, "New Kids on the Block".
Plot
For D.J.'s 39th birthday, Kimmy and Stephanie present her with three tickets to a New Kids on the Block concert, having been inspired by the things she wanted to experience before she was 40 on her "Dream Board". However, the tickets that Kimmy bought are revealed to be counterfeit and she manages to get a meeting with the actual band by hijacking their limo while at a red light. After a bad start due to Kimmy's obsession, the band agrees to sing to D.J. later that day before their soundcheck, only if Kimmy promises not to come near them again (because of her obsessions).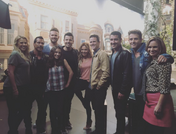 Max, Ramona and Jackson bake cupcakes for the party and Max tells them he has purchased a jewelry box and hid the key somewhere, taking the idea from a Hallmark movie with Dean Cain and Lori Loughlin. After everyone gives D.J. their gifts (which causes problems between Steve and Matt as she liked Steve's Pillow Person more than Matt's tennis rackets), she bites into one of the cupcakes and breaks her dental crown on the key which was hidden in the frosting. Matt takes her to the dentist just as New Kids on the Block arrive. When D.J. returns, she is high on pain medication and passes out as the band sings to her and quickly leaves to get to their soundcheck.
Later that day, D.J. awakens and is shown the clips from that day where she rubbed Joey McIntyre's chest. Steve arrives and presents the three girls with New Kids on the Block tickets that he got from a patient that owed him a favor and gives all of the credit to Matt, having felt bad for seeing how upset he was that D.J. liked the Pillow Person better than the tennis rackets. New Kids on the Block pull D.J. on the stage and sing "Please Don't Go Girl" to her for her birthday.
Cast
Main
Special Guest Cast
New Kids on the Block

Jordan Knight as Himself
Joey McIntyre as Himself
Jonathon Knight-Rodriguez as Himself
Danny Wood as Himself

Donnie Wahlberg as Himself
Notes
Donnie Wahlberg won't appear in this episode, since his busy schedule on Blue a Bloods tv series. He appeared through Facetime though when New Kids called him to sing "Happy Birthday" to D.J.
D.J.'s birthday in this episode is contuinity error because this episode was set between Thanksgiving and Christmas of 2016 and D.J. was born in February 1977.
Gallery
| | |
| --- | --- |
| | The image gallery for New Kids in the House may be viewed here. |