"
Life is full again.
"

—Tagline of Season 1
Season 1 is the beginning of Fuller House the Full House reboot series produced by Netflix. It shows D.J. Tanner who has recently become a widow after losing her husband Tommy due to him trying to save a little girl from a fire. She calls upon her sister Stephanie, best friend Kimmy, and Kimmy's 13 year old daughter, Ramona to help look after her 3 boys, Jackson, Max, and Tommy. The series will also feature appearances from Danny, Jesse, Joey, Becky, Nicky, Alex, Steve and new character Teri Tanner.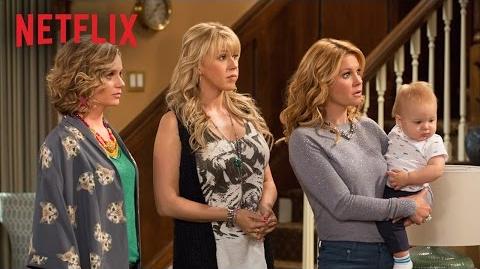 Cast
Main Cast
Special Guest Cast
Guest Cast
Episodes
Image
Title
Original Airdate
No. in series
No. in season
Our Very First Show, Again
February 26th, 2016
1
1.01
The entire Tanner clan comes together for a final reunion before the family home is sold, but parting turns out to be tougher than expected.
Moving Day
February 26th, 2016
2
1.02
When the big day comes for Stephanie and Kimmy to join the Fuller house, Jackson feels outnumbered and takes drastic action.
Funner House
February 26th, 2016
3
1.03
When Stephanie, Kimmy and D.J. have a girls night out and leave Joey in charge of the kids, things get wild out on the town and at home.
The Not-So-Great Escape
February 26th, 2016
4
1.04
Jackson tries to help Ramona at school but that lands them both in trouble and leads to a disagreement between D.J. and Kimmy over parenting styles.
Mad Max
February 26th, 2016
5
1.05
When an old friend whisks her away for a concert and after-hours fun, Stephanie realises just how much her nephews mean to her, Kimmy finds D.J. a date.
The Legend of El Explosivo
February 26th, 2016
6
1.06
D.J. punishes Jackson, causing him to miss his favourite Mexican wrestling league. But that leads to more action for the fans.
Ramona's Not-So-Epic Party
February 26th, 2016
7
1.07
Steve tries setting up D.J.'s handsome co-worker with Kimmy, and Ramona's much anticipated 13th birthday party doesn't turn out as planned for anyone.
Secrets, Lies, & Firetrucks
February 26th, 2016
8
1.08
When Max learns to lie, he also learns that lies can backfire. Meanwhile, the ladies of the house fall in love with secrets.
War of the Roses
February 26th, 2016
9
1.09
After 1,000 roses show up without a card, D.J., Kimmy & Stephanie must figure out which one of them has a secret admirer.
A Giant Leap
February 26th, 2016
10
1.10
Things get out of hand when Stephanie's new boyfriend Hunter Pence of the Giants, invites everyone to his next game.
Partnerships in the Night
February 26th, 2016
11
1.11
Stephanie and Kimmy form a strange partnership, D.J.'s boss retires, and Max has Jackson and Ramona right where he wants them.
Save The Dates
February 26th, 2016
12
1.12
D.J. has a date with her past that catches her off guard, and Kimmy's date with Fernando is nothing but suprises.
Love is in the Air
February 26th, 2016
13
1.13
When Jesse and Becky return to renew their vows, a bachelorette party leads to trouble for D.J., who is forced to choose between Steve and Matt.
Gallery
Notes
Fuller House is now available for streaming since February 26, 2016
John Stamos worked on production for the series
Candace Cameron cried after seeing the set
A replica of the house was made for the series due to the owners of the real house not allowing the producers to use it for the series
Fuller House has been released on DVD. It is available on ebay.com
The first episode is called Our Very First Show, Again according to Candace Cameron's Instagram
Reports have said that DJ's ex-boyfriend Steve (Scott Weigner) and Stephanie's child hood best friend Harry will make at least one appearance in fuller house
Community content is available under
CC-BY-SA
unless otherwise noted.