Wedding or Not Here We Come, is the ninth episode of season 3, and the thirty-fifth episode of Fuller House overall.
Plot
The gang is flying coach for Steve and C.J.'s wedding -- but Max and Fernando plan to sit in first class. Stephanie starts her search for sperm donors.
Summary
The day of Steve and C.J.'s wedding arrives and D.J. finds herself scrambled, which Kimmy claims it to be out of sadness that her soulmate Steve is getting married. Meanwhile, Popko writes Ramona a card before she goes away, revealed to be a poem asking if he can hang out with other girls to cope with his loneliness while she is in Japan. Upset, she breaks things off with him.
Stephanie goes through a book of potential sperm donors but doesn't want to ask Jimmy as the decision would put a lot of pressure on him and it might be something he's not ready for. Fernando plans to use a sob story to get into first class on the plane but when telling Max his plan, Max decides to use it for himself after hearing how great first class sounds and beats Fernando there under the lie that he is a terminally ill child.
Jimmy gets onto the plane and makes a heartfelt plea on why he should be the sperm donor over all the other candidates. After much thought, Stephanie agrees to it if Jimmy is ready for that kind of commitment. Matt talks to Stephanie on the plane, telling her his plans to propose to D.J. in Japan and she assures him that D.J. will say yes as she loves him.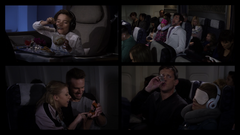 Kimmy and Steve switch seats temporarily after Fernando is crying in the back out of frustration in coach with rowdy passengers. D.J., who is wearing a sleep mask and headphones, is unaware that Steve is beside her and confesses to "Kimmy" that she is upset about her soulmate being married and that she did plan to choose him last summer. Steve begins to act awkwardly, not sure how to process what he just heard.
Cast
Main
Recurring Cast
Special Guest Cast
John Aprea as Nick Katsopolis
Trivia
Grandpa Nick Katsopolis makes a guest appearence
The final shot of the split screen showing Max enjoying a sundae in first class, a child kicking Fernando's seat, Matt and Steph admiring the wedding ring and Steve drinking after hearing D.J.'s confession seems to resemble the split screens used in the TV series 24.
Gallery
| | |
| --- | --- |
| | The image gallery for Wedding or Not Here We Come may be viewed here. |